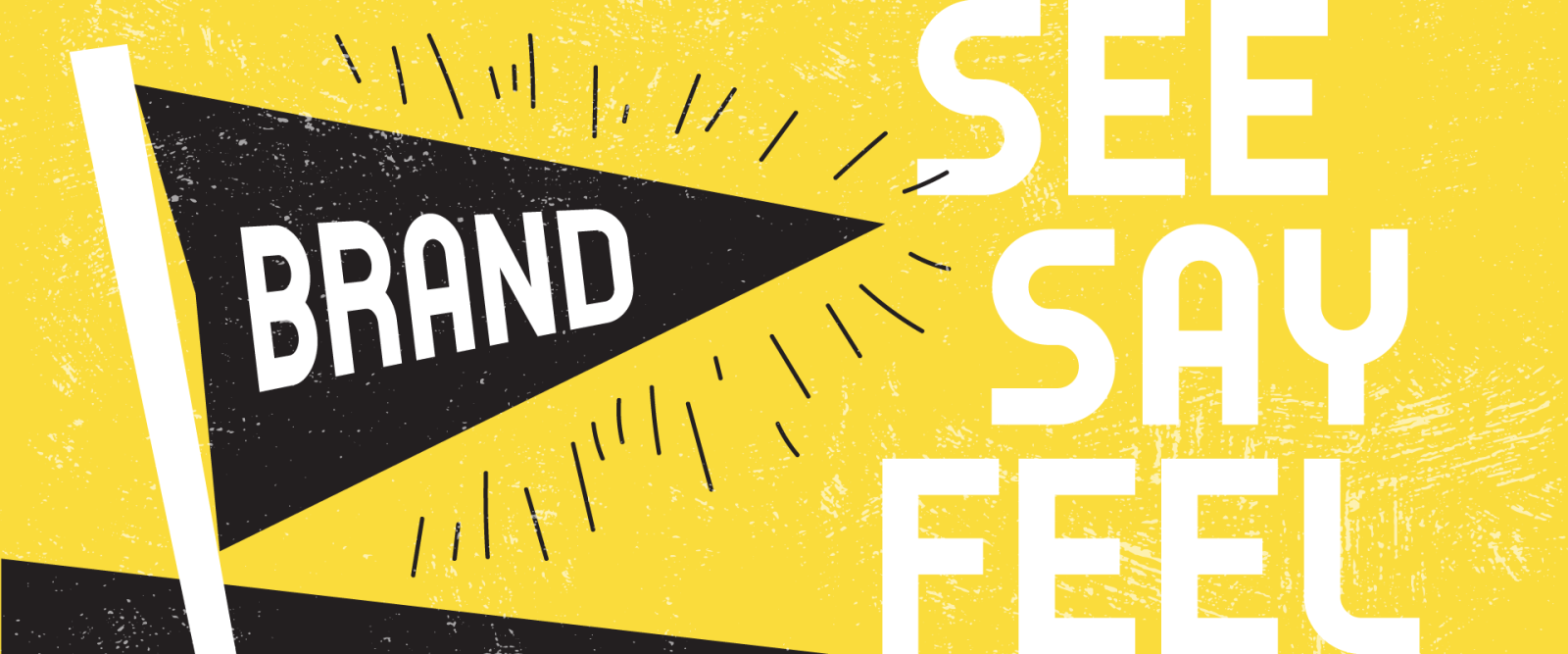 What defines a brand?
When a business establishes a brand, it's the equivalent of putting a stake in the ground and saying this is who we are and this is what we stand for. It's what differentiates Retail Company A from the Retail Company B down the street, or across the globe. There are a variety of facets which help define a brand. For example, it's what you see—or even smell—when you walk into your favorite coffee shop or book store. It's how an employee greets you at a restaurant or gas station. It's how you feel when you slip on your beloved sneakers or well-worn jacket.
It's what you SEE.
It's what they SAY.
It's how you FEEL.
This is brand. It's experiential.
What you see
The visual component to a brand is, of course, a biggie. It's often on the frontline of customer perception and it communicates much at a glance. As consumers, we're drawn to things that we think look good or in some way resonate with us. We may gravitate towards one product/store/service provider over another because of their look, which may influence our perception of them—and our anticipated experience—even before we use the product or enter the store.
All the things we "see" help shape a brand. From the storefront, to the website, to the bag that holds your purchases, to the design of an employee's uniform (for example, see the 2017 rollout of new uniforms for Southwest Airlines), each visual element should work in unison to further define the brand experience.
So where does the logo fit in, you might ask? The logo is the primary visual component of the brand identity. Although logo is sometimes used synonymously with brand, the logo is only one part of the overall identity. There's also the tagline, color palette, font styles, photo treatment, messaging and overall look and feel. At Vendi, we're well-versed in developing new or revamped brand identities for clients, as well as producing creative that lives within established brand standards. A sample of Vendi's logo work is showcased on our site.
In the scheme of an overall brand identity, a logo may be small, but it's mighty. The logo comes to iconify a brand with just one mark. It symbolizes your perceptions and experiences with that company. If you hear the names Target, Starbucks, McDonald's, do images of a bullseye, green mermaid and golden arches also come to mind? It's very likely they do. It's also likely that simply seeing certain logos elicits an emotional response. Perhaps one of joy, because seeing that Starbucks logo brings to mind sipping on a Frappuccino (yum) while chatting with a friend. Or maybe Target is your go-to shopping destination and that bullseye reminds you, "Oh yeah, I need toothpaste." Whatever the reaction is, it's bigger than the wordmark itself.
What they say
What a brand says can be thought of in a few different ways. It can be their tagline (also: slogan, messaging, headlines, body copy, guarantee, etc.). It can also be, quite literally, what is verbally spoken to a customer (i.e. customer service). Let's start with the tagline. In just a few words, the purpose of a tagline is to convey information to a consumer about the company, such as what they sell or a philosophy they stand by. Take, for example, the tagline "Finger lickin' good." Even after Kentucky Fried Chicken shortened their name to the less descriptive KFC, you'd suspect from their tagline that they offered some sort of edible product—one that is so delicious you'll be licking your fingers. Or the tagline "You're in good hands." A comforting notion and one that sends the right message for Allstate Insurance.
An example from Vendi's client work is the STAR Center. The tagline "Moving together" speaks to the mission of the organization, in which health resources are made available to all people, regardless of physical limitations. By providing adaptive equipment and therapeutic assistance, we can all live a healthier life.
Beyond the printed word, how employees interact with customers is also a reflection on the brand. We've all heard the phrase, "Stick to the script." This notion also applies to customer service. During employee orientation at any given company, there's likely training on how to greet and interact with customers, what catch phrases—if any—should be included in the dialog and a philosophy on how customers should be treated. A well-known example of exemplary customer service is Walt Disney Parks & Resorts, a place where guests are greeted with smiles and they're made to feel welcomed and valued. The Disney method of elevated customer service is so successful that they lead courses on it at the Disney Institute. When a company values its customers and it's demonstrated through their customer service, it is easy to see. And it also keeps those customers coming back.
Brands may also live outside the scope of the goods and services they offer and align themselves with a certain political or social justice issue. One recent example of this is the movement generated by Toms Shoes founder Blake Mycoskie and his passionate mission to help end gun violence. No matter what side of the political line you stand on, it's evident where Toms Shoes stands—their brand has a defined position.
How you feel
Perhaps without even realizing it, we tend to shop at certain places, use certain products or wear certain clothing that we feel reflects who we are as a person—or reflects who we strive to be. Are you Apple or Android? Ford or Chevy? Coke or Pepsi? Why? Through all the branding efforts of any given company, it can often be distilled down to a feeling. All those things you "see" and all those things they "say" will influence how you feel, and you may start to identify with that brand. "I'm a Mac user." "I'm a Coke person." "I'm a Ford guy." This is brand loyalty. And for the business, this is gold.
A personal note: I've always had an affinity for Life is Good products. Seeing that little smiling Jake character just makes me happy inside. Their quirky designs, positive messages and charitable giving all make me feel good about aligning myself with their brand. Years ago, it was as simple as, "I like this shirt." So, I bought the shirt. But now I know it's more than a shirt. It's a belief and a way of being. And perhaps I like it because their brand allows me to let out my inner hippie.