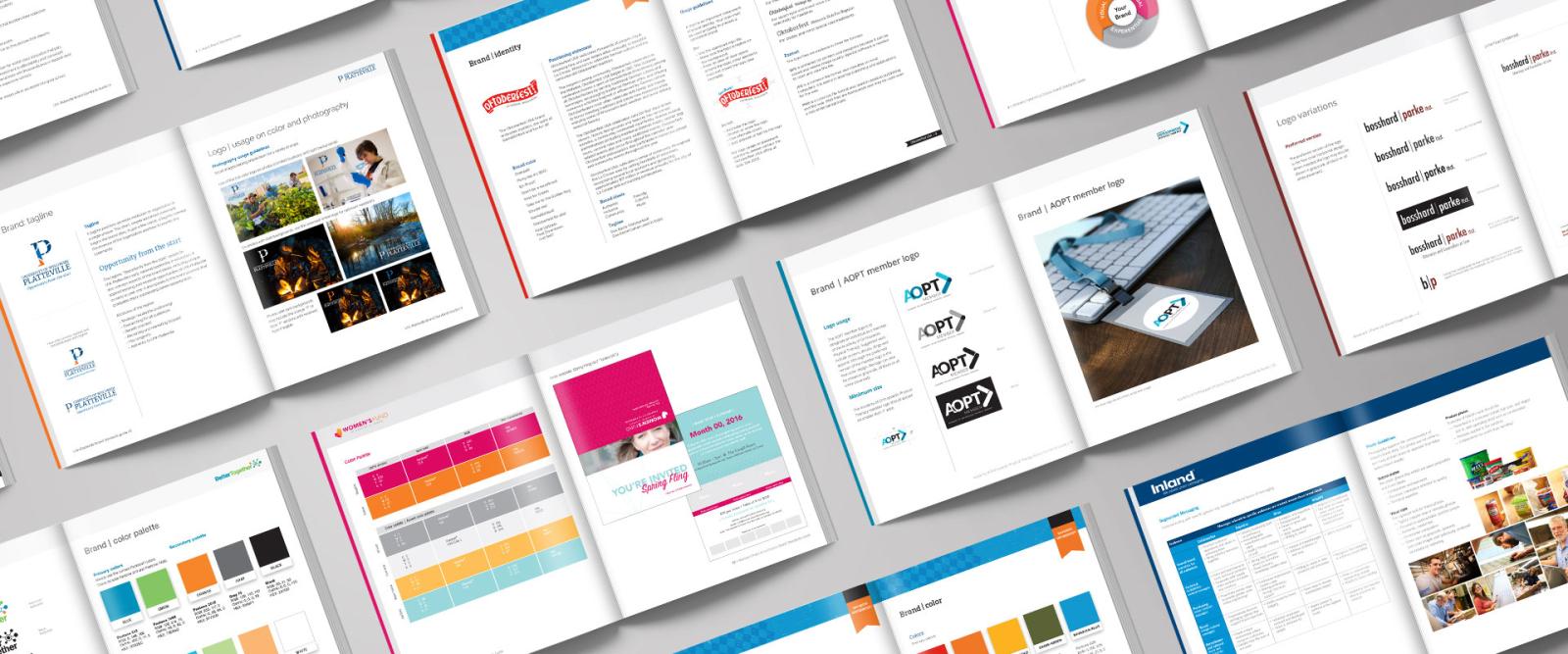 Raise your (brand) standards
Let's talk about brand. We love talking about brand; we do it all day. So when it comes to developing and managing brands, it's safe to say we have high standards. Our clients benefit from documenting these standards because it saves them both time and money.
Perhaps you've heard of a brand standards guide. Maybe a brand usage guide? Brand style guide? There's some irony in referring to it differently but understanding the purpose and benefits of having one is extremely important none the less.
Let's start with the basics:
We'll end by reassuring you that having a brand standards guide does not limit creativity.
What is a brand standards guide?
A brand standards guide is a collection of guidelines for your internal audiences that outline how brand elements should consistently be used.
Why is a having a brand standards guide important?
Documenting brand standards is essential in creating a unified brand experience that reinforces your identity in the marketplace. Regardless of your organization's size, reach, sector, products and/or services, your team will benefit from a brand standards guide. Here's why:
The reality is that your brand is defined by everyone else—customers, partners, the media and even your competition. With consistent branding, each new communication reinforces the previous, which allows you to effectively build awareness, influence perception and create momentum for your brand.
Additionally, a strong brand streamlines marketing and support. Using a brand standards guide provides a head start in developing communications and marketing materials.
Who uses a brand standards guide?
Well, it isn't just for your design or marketing departments. A comprehensive brand standards guide keeps everyone in the company aligned and working toward the same goals. Your guide should be available to everyone in the company. And we mean everyone:
Senior executives
Administration
Human resources
Finance
Marketing
Communications
Designers
Developers
Agencies
Outside vendors
Every interaction with your brand reinforces the previous, and people are communicating with your brand all the time. This includes (and is certainly not limited to) emails, phone calls, invoices, pitches, presentations, the website, blog posts, ads, tradeshow collateral, merchandise, apparel, etc. Documenting (and sharing) your visual and verbal communication standards enables your organization to speak as one.
What's outlined in a brand standards guide?
As expected, standards guides should outline logo usage, including all the different variations of your logo, color options and clear space requirements. However, your brand is much more than your logo.
Your comprehensive brand standards guide should outline:
Verbal communication guidelines

Tagline
Vision and mission statements
Value proposition and positioning statement
Brand voice and brand ideals
Brand messaging (both overarching and segmented for different audiences)
Boiler plate

Visual brand assets

Logo variations and usage (color options and clear space requirements)
Color palette (including Pantone, RGB, CMYK and HEX color codes)
Fonts and typography treatment (for both print and web executions)
Photo guidelines and photography treatment
Brand patterns, if applicable
Examples of brand collateral and templates (business cards, letterhead, envelopes, email signatures, presentations, etc.)
Will a brand standards guide limit creativity?
Not at all! However, be warned. It may increase consistency and efficiency. ;)
Here's an example. Vendi has developed countless brands, more recently a refreshed identity for Oktoberfest USA. As part of a Vendi Share initiative, a larger group of Vendi designers contributed t-shirt designs for their 2018 Fest.
The designers started at square one: the Oktoberfest USA brand standards guide. From here, components were selected from a variety of brand colors, fonts, patterns, icon treatment and phrases strategically developed to represent the refreshed brand.
Each designer took his or her own unique approach to creating the t-shirts. As a result of leveraging the brand standards guide, the concepts had a consistent brand voice and cohesive look and feel.
In closing…
If you don't already have one, hopefully a brand standards guide sounds like a vital addition to your organization. We can help. Vendi has a 15-year track record of developing strong brands. We've created brand standards guides for both new and existing brands. Our guides are well respected and customized to fit the needs of many different organizations.
Interested in learning more about our approach to brand strategy? Take a look at our brand work or, even better yet, let's get started on yours.