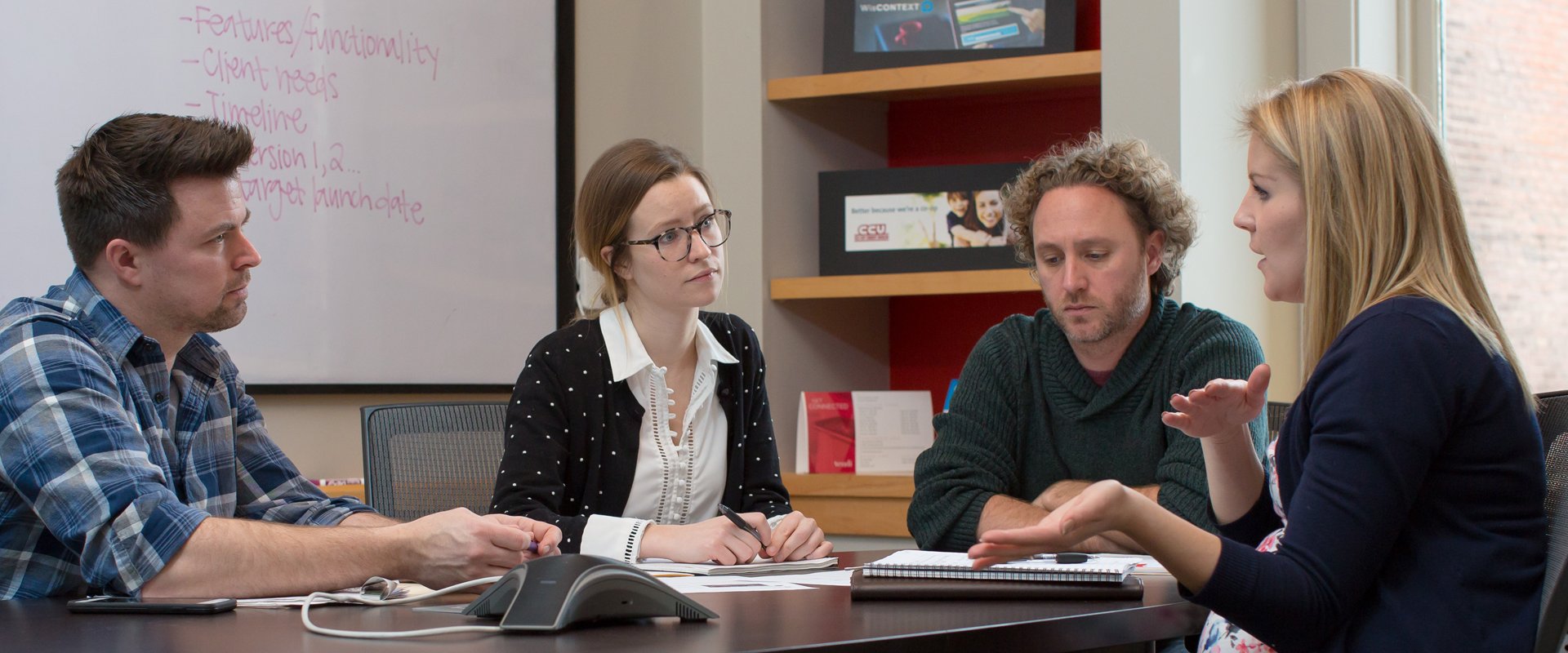 Project kickoffs: 4 tips for starting off on the right foot
Contracts have been signed. Budget has been approved. You've assembled a team. Now what? A successful kickoff meeting can set the tone for the entire project. It's a chance to get the team on the same page, ask questions and develop a plan for getting things done.
Why it's important to kick off a project
Effective kickoff meetings arm your team with the strategy, goals and assets needed to launch into a project and successfully accomplish the organization's objectives. It provides an opportunity to clearly outline project needs and deliverables, assign roles, set expectations and eliminate any ambiguity that can stall a project, derail a timeline and eat up budget. 
If you're working with other departments within your organization, a client team or agency, a project kickoff is a great way to introduce new players, share their roles and expertise and open lines of communication.
Goals of a kickoff meeting
The topics discussed in a kickoff meeting will vary by project but everyone should leave the meeting with a clear understanding of:
Project goals and deliverables – What are we trying to accomplish, how will we measure success and what should we have to show for our work at the end of the project?

Potential gaps – Identify any additional information or assets needed to get started or complete the project. This could mean locating logo files and style guides, pulling in other team members with unique expertise or conducting additional discovery or research.

The process for review and approvals – Determine the best way to communicate with the team and the process for reviewing and approving items along the way. At Vendi, we've found regular status meetings to be an effective way to keep the team updated and approvals on track. Tools like Basecamp, a project management program, and Slack keep upcoming milestones front and center and help us stay connected in between meetings.

Roles and responsibilities – Figure out who is accountable for what, which is critical to staying on schedule and within your budget. Doing this work on the front end of a project prevents tasks from falling through the cracks or a duplication of effort.
4 Tips for a successful kickoff
1. Start with a project brief
An effective brief will serve as your roadmap throughout the entire project. It holds key information like team assignments, brand, messaging, contact information and milestones.
2. Include the right team and all team members
Since you'll be discussing project goals, team assignments and setting expectations, all stakeholders and decision makers should be involved.
3. Follow up
Leverage the momentum of a productive kickoff meeting with timely follow up and put that communication process you talked about into action. Send notes or a recap of what was discussed, update the project brief if needed and highlight next steps or upcoming milestones. Organize project files and make them available to your team. Give your team the best possible foundation for fresh ideas and breakthrough creative.
4. Assign milestones and schedule the next check in
Projects need timelines. Avoid that last-minute scramble by assigning milestones ahead of time and scheduling regular check ins. Sending an agenda ahead of time allows the team to be prepared to share their progress or make decisions. 
We get how challenging it can be to find time on the calendar for another meeting but starting a project on the right foot helps ensure that you'll stay on time, budget and strategy. Spending even 15 minutes together to start a project will save you even more time down the road when the team has all the information they need to hit the ground running.