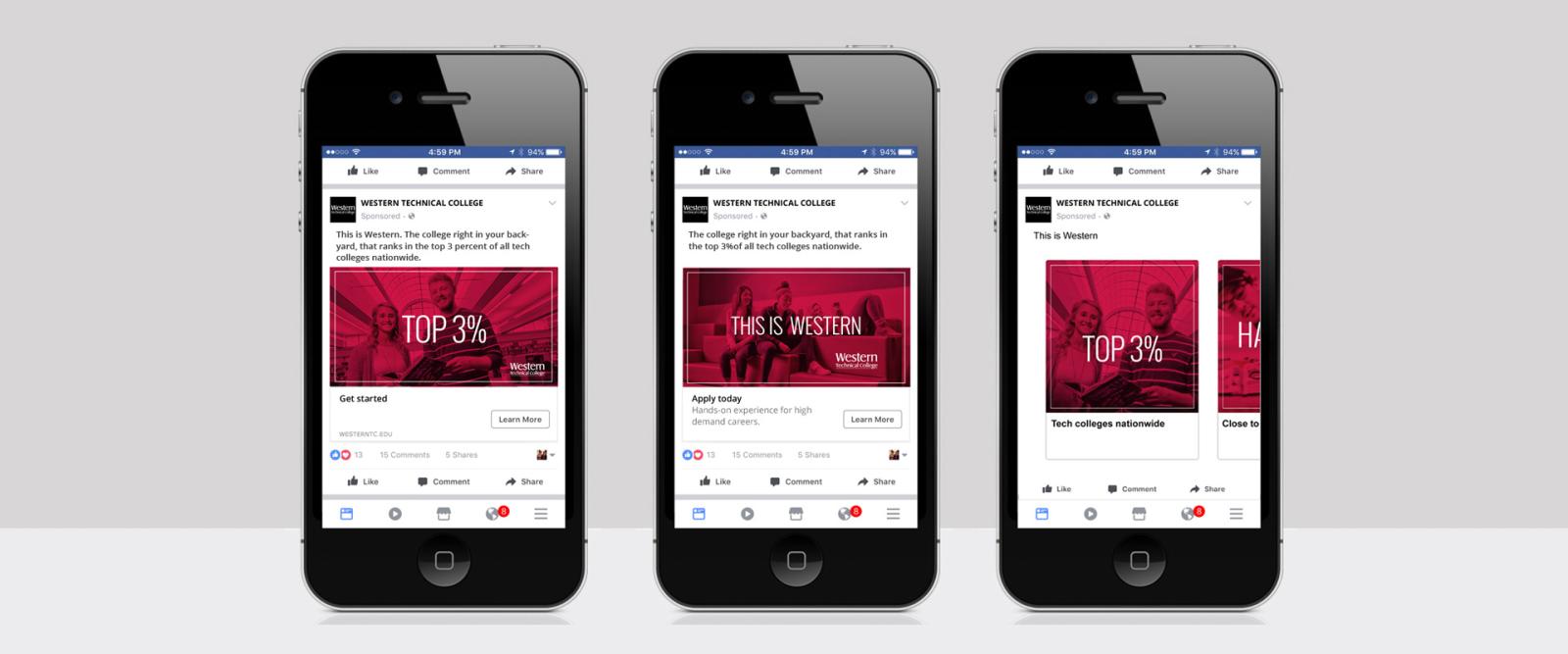 Facebook Ads: Beyond Boosted Posts
"We are already running digital ads; we boost our Facebook posts." This is a phrase we sometimes hear when recommending digital marketing as part of an overall media plan. And while boosted posts are an easy entry point into digital marketing, Facebook advertising has so much more to offer that will benefit your business beyond the boosted post.
When to boost
Facebook organic reach is nearing zero, so the use of boosted posts is great as part of your overall social strategy to increase reach and engagement with your content. If you have a post that has already gotten some organic traction—people are already showing interest by liking or commenting—then boosting that post is an effective way to get that content back in the newsfeeds of your fans. 
But what if you created a video and you want to get more views? What if you have a campaign landing page where you want to drive traffic? Or you are trying to generate leads and collect email addresses? Or you want to place ads in other locations outside of the newsfeed? Then it's time to move beyond the boosted post.
Meet more objectives
The boosted post is great for newsfeed reach and engagement, but there are other marketing objectives Facebook can meet. From awareness of products or services, to consideration and ultimately conversions, there are a variety of ads you can create depending on the results you want. Choosing an objective is an answer to the question: "What do you want to do?" Do you want to send people to your website? There's an objective for that. Do you want to get your brand in front of as many people as possible? There's an objective for that. Do you want to get people to make a purchase on your website? There's an objective for that. Choosing the ad based on your objective will give you the ability to reach users most likely to respond to your ad—giving you better results. Not sure where to start? Facebook Business has a handy guide.
Enhance your creative
The boosted post only allows you to advertise the creative that you posted in your newsfeed. But there are so many more ad formats that can be utilized, giving you more creative freedom so your ads can stand out in the newsfeed. Carousel ads let you include multiple products and services in a single ad, and can often lead to higher click-through rates than single image ads. Video ads are a great way to extend your traditional TV spots into digital. And then there's the latest formats of the bunch—Canvas and Collections.
Canvas lets you create a rich mobile experience to showcase more of your brand story, products and services. You can combine single image with carousel and video—all in one ad. And if this sounds intimidating, Facebook has a convenient Creative Hub that lets you mock up canvas ads and view them on your mobile phone before you launch them. Plus, the ads manager makes it easy for you to upload all your assets and create the canvas experience without needing any coding knowledge.
Collection ads are the latest format geared toward retail and travel brands—allowing users to discover and browse products in a full screen experience without leaving the Facebook app.
Boosted posts also do not allow you to optimize your ad for mobile and desktop placements, ensuring that your images and all your content display properly across all devices.
Target more people
With a boosted post, you do not have access to the full advanced targeting capabilities—and they are robust. Within the ads manager you can target demographics, location and interests, much like you can from a boosted post. But you can also create custom audiences. These are the people you know—they have a relationship with your business and have already expressed interest in your brand. With custom audiences, you can use customer email addresses to target content to them. You can reach new audiences by creating a Lookalike Audience based off people who have visited your website or engaged with your content on Facebook or Instagram. If you move beyond the boosted post you can also choose advanced placements for your ad, like Instagram, the Facebook Audience Network and Facebook Messenger—reaching even more people with your message.
So, while boosted posts are a great part of your social strategy and an entry point into Facebook advertising—there is a world beyond the boost that offers you more ways to meet your marketing objectives, more creative executions to better meet your objective and engage with your audience and greater targeting to reach more people with your message.
Check out our digital page for a look at how we incorporate Facebook advertising into digital campaigns for our clients.