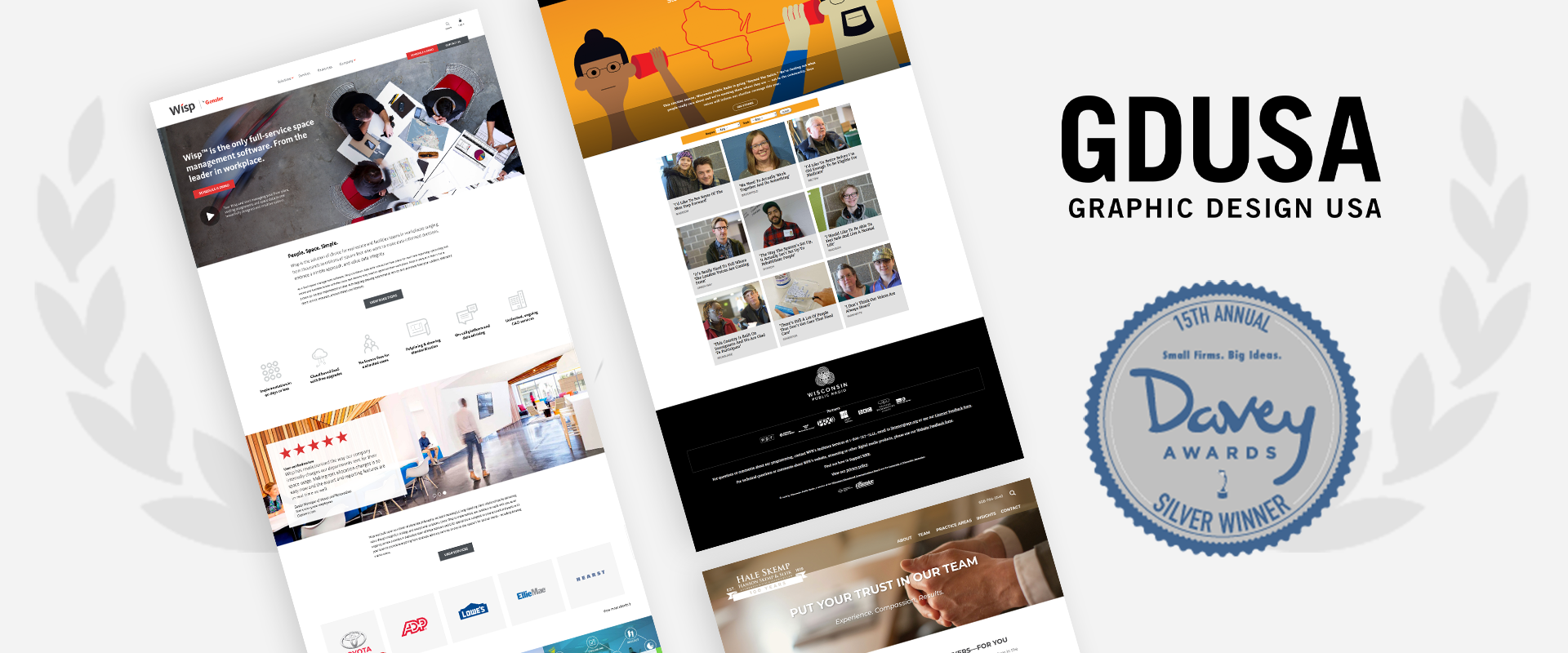 Vendi secures gold and silver awards from Graphic Design USA and The Davey Awards for three website projects
Vendi has been awarded with a gold award from Graphic Design USA (GDUSA) and two silver Davey awards for website redesign projects the firm conducted for Gensler Wisp, WPR Beyond the Ballot and Hale Skemp.
Vendi received a gold award from GDUSA for their work on the Gensler Wisp website, a site for the only full-service space management software. Karen Bernhardt, Vendi creative director, stated, "Developing a new website for Gensler really allowed us to flex our creative muscles, while adhering to well-established brand standards. Gensler is the world leader in workplace design and their website needed to reflect that." The complete website design and development included sales force integration and a robust resource library. Jane Stull, Gensler marketing manager added, "With no additional marketing or advertising, we have more than tripled our conversion rate since the site has launched". 
Vendi design and development of the WPR Beyond the Ballot and Hale Skemp websites garnered the Davey Awards. In the law and legal services website category, Vendi's silver award-winning site positions Hale Skemp for the future, while commemorating their 100th anniversary. For WPR Beyond the Ballot, which was awarded silver in the political website category, Vendi collaborated with WPR to develop the Beyond the Ballot brand and Drupal website. This WPR.com subsite presents multimedia interviews and personal stories related to election expectations of people throughout the state. David Hyland, the director of digital media for WPR said, "We quite literally couldn't have completed our website project without Vendi, they are the SEAL Team Six of web development."
About the Awards
Since 1963, GDUSA has sponsored graphic design competitions to spotlight excellence and opportunity in design news, people, project, trends, technology, products and services. Roughly 10,000 entries were submitted and only a highly selective 10% are chosen as a winner – which includes Vendi. 
 
The Davey Awards in an international award focused on honoring outstanding creative work from the best small agencies across the world. The awards are named after David in the David and Goliath story – to recognize agencies with small budgets and big talent who are ready to take on the Goliath's of the industry. Great work is about fresh ideas and exceptional execution, not the biggest budgets. To be eligible for the Davey Awards, agencies must not exceed $25 million in annual billings.