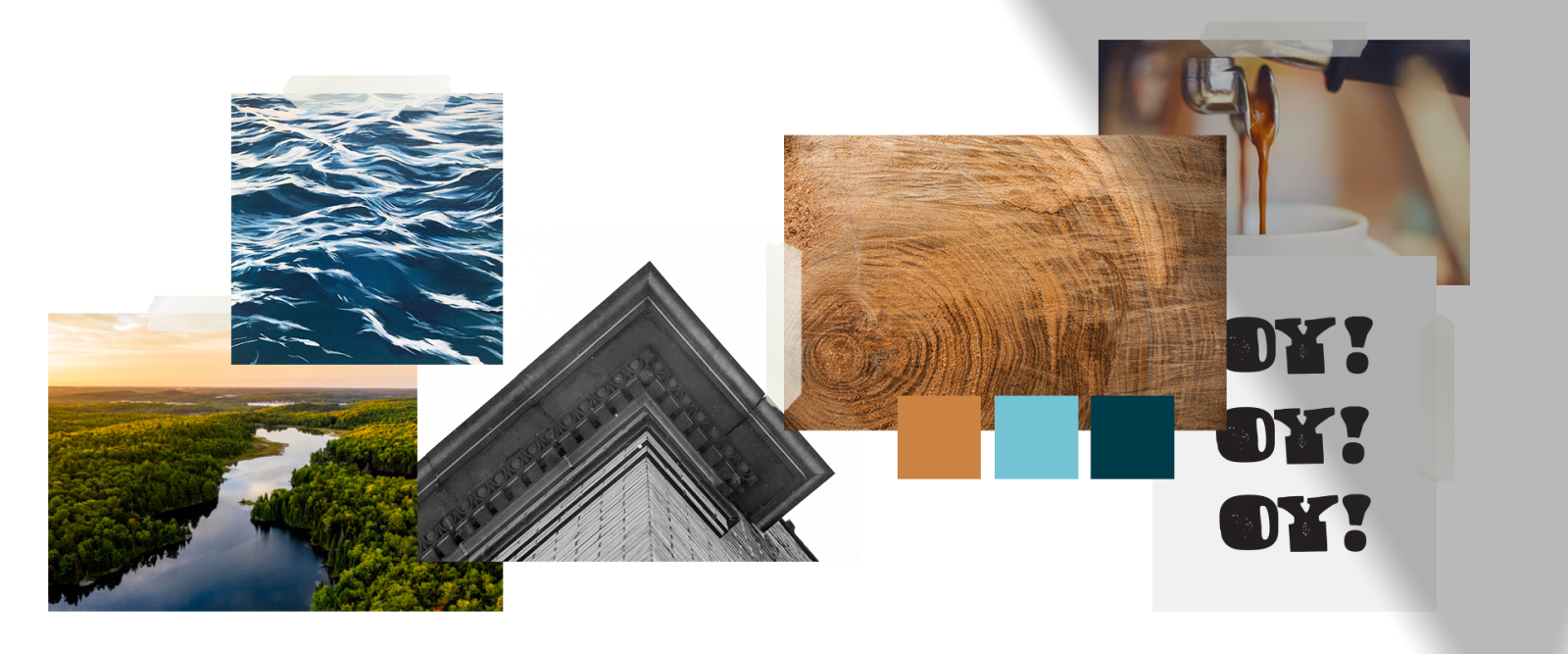 A Designer's Guide to Concepting
Building inspiration and developing your next design concept
Ever since I can remember, I've found solace and enjoyment in paging through magazines. From fashion to lifestyle, travel and interior design publications, there's nothing like sitting down, settling in and enjoying from cover to close. I love their thin, glossy page feel and fresh-off-the-presses scent. Above all, I appreciate them for their content. Not just for their spreads on summer's must-have-styles and tips on how to hygge your home but for their photography, layout and aesthetics.
It's in magazines that I find inspiration. I used to carefully rip pages out of magazines that I found interesting and inspiring but for no real purpose other than to pile up and be forgotten. Now, as a designer, I still tear and collect but I do so with a different intention: to gather inspiration that helps guide my designs. This is one of the first steps in my design process. Also referred to in the industry as mood boards, tear sheets are collections of visual pieces that spark inspiration, set a tone and drive design, and provide vision and ideas. 
Piecing it all together
Look at a design piece and you see an end product, a carefully curated composition of elements that took considerable time, creative strategy, a stylistic eye and a collaborative relationship with a writer and marketing team to produce what you view before your eyes. Visual communication is an art and a science. To be able to effectively convey a message to viewers who see and interpret information differently, a designer must consider:
Brand standards Brand-specific fonts, colors, graphics and imagery that set the voice, tone and style
Project goals The objectives you hope to accomplish through the piece
Past results Numbers, facts and figures for previous work that drive your current decisions
Research Qualitative and quantitative studies that indicate market trends, consumer preferences and behaviors
Target audience Who you are trying to reach 
Communication channels The mediums and platforms in which the creative will appear
With these, using your professional design background and training, the choices you make affect the viewers overall experience and engagement with the piece. Your layout, hierarchy and design determine readability and usability. Your graphical elements, typography and imagery create an impression as to what kind of organization you are. That said, there's a lot to account for. You want to make sure that you effectively create a concept that represents the brand and speaks to its audience and it all starts at the beginning of a project. Ready to get started? Here are a few tear sheet and mood board essentials to keep in mind when creating your own:
Gather abundantly
Collect a variety of pieces. Although you've probably heard that "less is more" as a design fundamental, you can never have too much inspiration or too many visuals (as long as they're focused). If you see a design concept, element or example that piques your interest or seems to fit while flipping through a magazine (my favorite but sadly dying medium) or scrolling aimlessly for hours on Pinterest or Behance, pull it. You can always refine and curate your tear sheets and mood boards throughout the creative process. Unless your design parameters are very specific from the start, you'd rather have too much than too little. More examples of industry creation, design styles and trends will help spur ideas to cultivate a creative masterpiece.
When collecting inspiration for your design, I look for inspiration from:
Layout and hierarchy
Scale and proportion
Color palette
Typography
Imagery
Design elements
Artistic style and tone
Note: You'll notice that as you gather tear sheets, you'll start to develop a collection of inspirational pieces that have a similar look and feel, each piece standing on its own but feeling cohesive. Well done, you're on the right track! This will help provide design direction and focus.
Think unconventionally
Your first reaction may be to search for design inspiration similar to what you are developing. Don't limit yourself! Look for pieces unrelated to the medium of the piece or outside the industry for which you are creating the design. I find that some of the best inspiration comes from the most unexpected places. Textures, objects from nature and architecture that may not necessarily be related to the design but can provide inspiration to guide your concepts are additional pieces to include in tear sheets. 
Tip: You should always be looking for opportunities to extend the brand and bring new dimensions to it, so look for ways to elevate your client's work and its brand to new heights (so to speak).
Pin purposefully
Strategically place your tear sheets in a way that works best for you. Categorize pieces in groups, such as design, typography and imagery for more focus or randomly place tear sheets on a wall for broader thought stimulation. It's all up to you! Whatever floats your boat, right? Mine sail in from one categorized island to another. Regardless of your preference and organization, make sure you can fully see all tear sheets in one place, so you scan them, make connections and develop a strategy for your design.
Create initially
Tear sheets are meant to inspire but use with caution. Just because you like the look and feel of a particular piece you've pulled and pinned doesn't mean it should wholeheartedly guide your design. Remember originality. Your creation should adhere to the brand and be unique to it. Make sure the design is authentic to the brand, resonates with your target audience and has nice flow and readability. Always take a step back to evaluate your work. Don't lose sight of your project goals and ask others for a second eye.
So, start taking note of inspirations that will lead your design decisions. Take the science of research and past results, the collaboration of your team of marketing and creative specialists and the art of your training and artistic eye to develop a design concept. Page through magazines and design books, explore the internet and stay aware of your environment. Any and all design elements, whether related or not, can lead to a design that works well for you and resonates with your audience. And remember, enjoy the process!