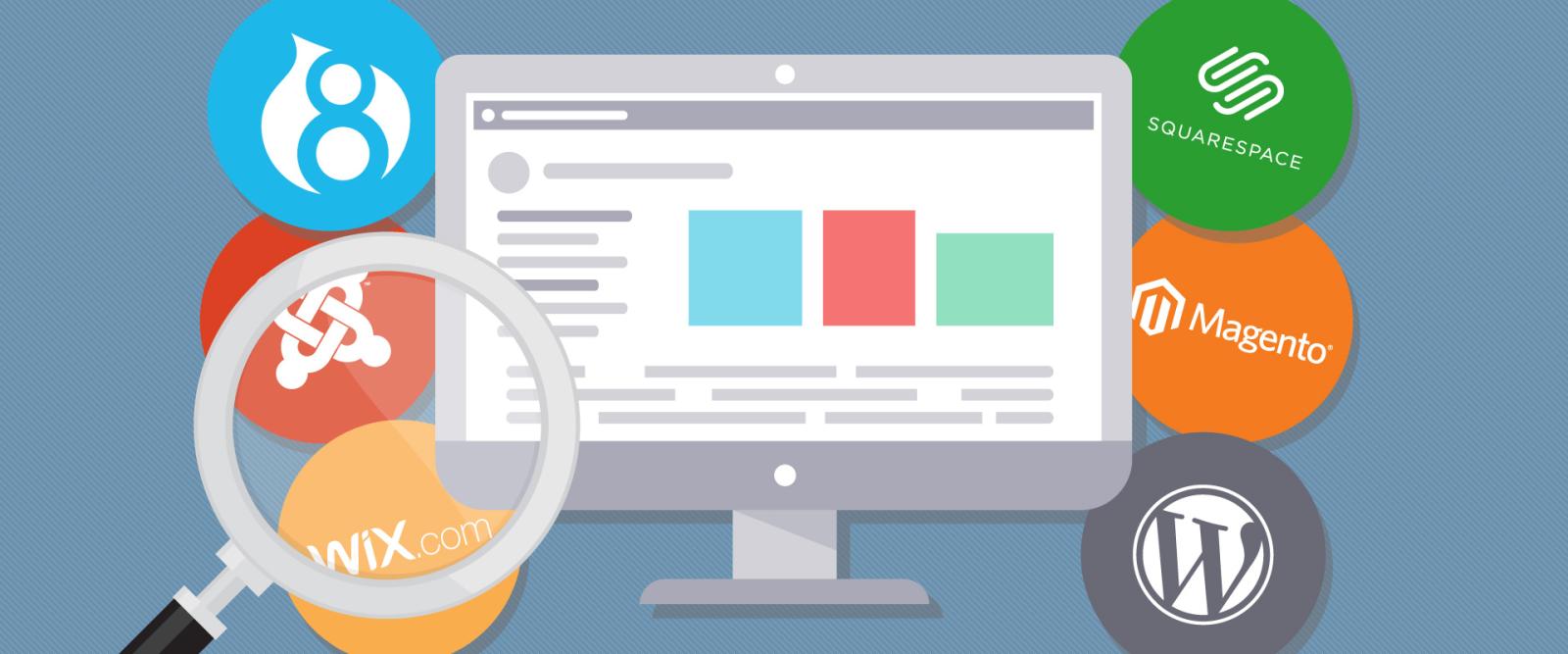 Part 2 - Why choosing the Right CMS matters
There are a lot of options when it comes to a CMS, or Content Management System. From Wix to SquareSpace to WordPress to Drupal. The list goes on. A lot of CMSs present themselves as easy-to-use, quick and affordable. We've all seen commercials of a chef standing in the kitchen with one hand stirring a fine hollandaise sauce and the other crafting a beautiful website with just the click of a button. Presto, amazing website! That sentiment is wonderful, in theory. It gives us all notions of watching the Jetsons way back when, and their push button world. But technology today is not quite that simple, and certainly won't create the content for us.
How do I begin to select a CMS?
Writing down the goals of your business is a great way to kick off the selection process. We all want our customers to engage with our website, so identifying how best to accomplish that can start to paint a picture of the features and resources your CMS is going to need to provide. Secondly, take the time to investigate current CMS options. Learn about the features they have to offer. Will you be spending more time trying to layout content, as opposed to creating content? How much time is it going to take to learn the CMS? It's easy to get swayed by low-cost entry points but what is your time worth in the long run if you're spending more time learning and updating your CMS as opposed to running and growing your business.
When researching and selecting a CMS, here are some key factors we take into consideration:
Languages/frameworks/platforms
Every CMS is built in one or more languages (C#, PHP), usually utilizes several frameworks (.Net, jQuery, PHP) and targets specific platforms (Windows, Linux). The combination of these factors determine several things including stability, security, future growth and the ability for internal staff to maintain the system.
Upgrades
Some CMS systems have a fast release cycle with new versions coming out every couple of months, while others make changes only every couple of years. Although a faster release cycle means you get new features faster, it also means some older features you depend on might be eliminated. A slower release cycle gives you the assurance that features won't change. However, it sometimes comes with the burden of migrating to the next version instead of upgrading.
Cost
There are various costs to calculate, including the cost of the CMS itself, support for the CMS, the cost per user, the cost for different types of users and the amount of traffic expected in a given period of time. Additionally, most modern CMSs can be extended with "themes," "modules," "plugins" and "integrations," all of which can potentially have their own costs. Even completely free CMS systems incur costs to host the CMS, as well as paying the IT staff required to maintain it. Up-front costs need to be weighed against lifecycle costs.
End-user empowerment
We also call this "the ability for users to do something without calling IT." When selecting and implementing a CMS, it is important to determine the boundaries of 1) what average users can do with minimal training, 2) what a smaller group of power users can do, and 3) what can be done only by IT staff. Some of the common tasks that need to be accounted for include creating and removing users, changing and reorganizing content, uploading files and template creation. Every task that needs to be escalated to a more powerful or knowledgeable user impedes the progress for average content creators to do their job.
Ease of use/intuitiveness
Related to end-user empowerment is the ability for users to discover on their own what actions are needed to affect the changes they want to make. Although users can be instructed how to do things, this requires training, manuals and support staff. A successful implementation of a CMS is often directly related to how intuitive the CMS is built.
Internationalization and localization
Internationalization is the process of making your site ready to be localized and localization is the process of actually creating or converting your content. Even if your expected audience is located in a single geographic location, there's a very good chance that individual users will have different preferred languages or cultural expectations. Most modern CMSs are ready for internationalization, but localization still needs to be investigated and implemented by the content team.
Security principals (users, roles and access privileges)
It is often convenient to give users or sets of users access to different pieces of content or levels of administration depending on internal business rules. Sometimes these rules are trust- based or conversely, distrust-based, where users explicitly should or shouldn't be able to perform a task. Other times these rules are simply a way to segregate content so as to not overwhelm users with content that isn't relevant to them. It is important to select a CMS that implements rules that align with your business needs.
Publishing strategy/workflows
A publishing strategy outlines the steps from when a user says "I want to do something" to that "something" being completed. There are several different CMS publishing strategies. One common strategy is "on the fly" where users can create and edit content, hit "save" and all visitors receive the updated content immediately. Another related strategy is "batched" where changes are "pushed live" at specific intervals such as hourly or daily. Both of these strategies can additionally include workflows where content "flows" from one user to the next until someone with designated authority approves the content and makes it live.
Source code
Some CMS systems are "closed source," which means that only the original authors of the CMS can make changes. Others are "open source," which means anyone can freely alter code.
Licensing
The license that a particular CMS implements is important because it can affect both the cost of the CMS as well as the legality of using it. For instance, some licenses are free for personal use but require businesses to pay. Other licenses are dependent upon the number of users modifying content and even the number of public visitors to the site. Almost every CMS license also includes further licenses from third parties with which CMS developers have entered into agreements.
Hosting/infrastructure
Most CMS systems are either "hosted" (often called "cloud") or "self-hosted." One of the biggest advantages of a hosted CMS is that the responsibility for hardware and software maintenance falls upon the vendor, which can relieve the burden on internal IT staff. However, this advantage often comes with monthly support costs as well as vendor lock-in.  
IT ease of use/reduced burden
IT staff are generally responsible in one way or another for every piece of hardware and software on their network. Adding any CMS to a network adds the burden of backing up the CMS, patching the CMS and operating system, monitoring and addressing security threats, disaster recovery and general troubleshooting for every user. When selecting a CMS, it is important to take the ease of implementing these tasks as well as the training and procedures involved in order to ensure a smooth user experience.
What about making my site look awesome and speak profoundly?
Remember our business goals? Content, in our minds, is always at the forefront of choosing and developing in any CMS. Crafting a plan or strategy of what type of content you want on your website to meet your goals is an essential step in the CMS selection process. Is your site going to have products? Do you need to sell those products? What kind of content will engage your visitors and keep them coming back for more? Without this roadmap, you may find yourself staring at a screen with an empty text editor, not knowing where to even start.
By doing some research and thinking critically about your content and how it relates to your goals will go a long way in helping you choose the right CMS.