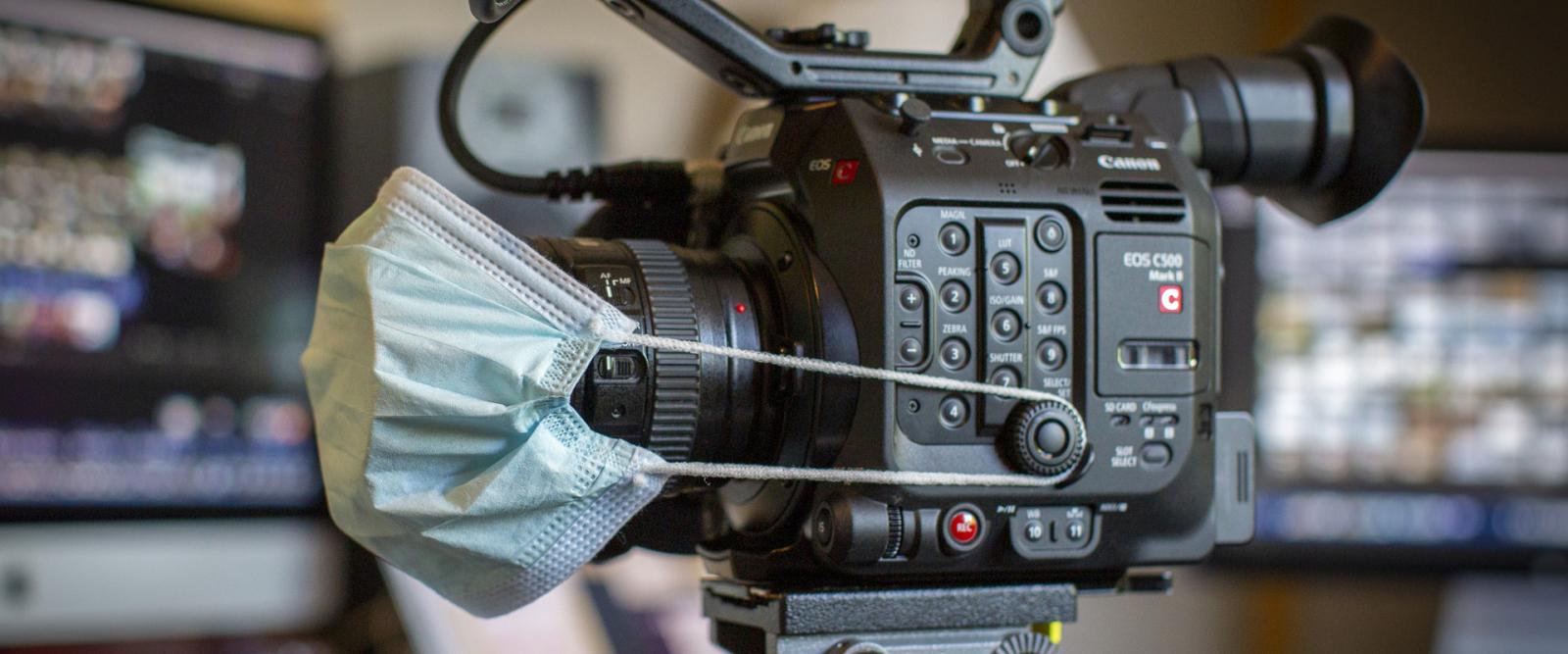 Mask up & move on: Producing video in very strange times 
It was the best of times
What's not to like about working from home for an introvert? I can see and hear everyone far better on a Zoom call than in any conference room I've ever been in. I get more long, uninterrupted blocks of time to focus on editing and get in the zone. And, best of all, I've just equipped the home office with a Nespresso machine—I don't even need to get up to get caffeinated.
It was the worst of times
My coffee budget has now pushed my retirement date back at least a year. Despite the introversion, I miss in-person interactions with the Vendi team. No one cleans my office but me. And strangest of all—tell me I'm not alone with this, please—in my dreams, most everyone is now wearing a facemask.
Fra-gee-lay!
So, it's not all bad, but like you, I'd be happy to get back to some form of normalcy. For me at Vendi, that's taking photographs or shooting video. Out of everything I do, I'm happiest with a video camera in my hand, which is now a brand-new Canon C500 mkII, 5.9k full-frame sensor with electronic image stabilization and internal RAW recording. I realize that sounded a bit like Ralphie in A Christmas Story describing his Red Ryder BB gun, but I was just that excited when it arrived… right before the pandemic hit. Once we began postponing and rescheduling shoots, I began to feel like the bully, Scut Farkus, was sitting on my chest pummeling my face.
As soon as I got up and dusted myself off, the city of La Crosse asked Vendi to produce a PSA (found below) showing how the community had come together to combat the COVID-19 crisis. This was not long after the CDC had first published its guidance documents and we were all figuring out how things would now work. As an agency, we were asking ourselves new questions including: Does everyone shown need to have a mask? Are those people six feet apart? What precautions do we take recording a voiceover? How do we handle release forms, makeup and hair, and placing lavaliere mics?
Safe workarounds were found and, while production schedules have been shifted a bit, we've carried on with many other projects that involve photography and video production. And we consider ourselves lucky. The impact on film and TV production has not been pretty. Production on most TV and films stopped, trade unions were issuing stop-work orders and 100,000 entertainment workers were out of jobs. The irony of all this is that we're all now watching more television. A lot more.
Who's got the remote?
HBO reports movie-watching is up 70%. Consumer Technology Association reports 26% of American households have started using streaming services for the first time. Comscore reports cable news networks' viewership is up 73%, network TV viewership is up 19% and children's daytime programming viewership is up 31%. Those of us in the business need to develop workarounds and safety procedures so all these poor binge-watchers don't have to live on reruns for the next couple of years.
Episodes, stat!
General Hospital, on the air for 57 straight years, had to temporarily shut down production, but was one of the first to get back in business. They're employing special COVID coordinators and health advisers to routinely conduct testing, take temperatures, ensure PPE is being used and safety procedures are followed. They've used mannequins as stand-ins and have even brought in actors' real-life partners to shoot love scenes. This I read online…because, um, I'm working while at home… not watching soap operas from a comfy recliner, weekdays at 1 p.m. Central on WXOW TV-19. Really.
To infinity and beyond
Live-action film and TV may be struggling, but the workflow of animation easily accommodates working remotely. No actors (other than voice), just artists, animators and editors, collaborating from a distance, just as they always have. You can watch a TV spot below that Vendi recently produced for Marine Credit Union. Truth be told, this treatment was brand strategy rather than a necessity, but very little had to change in our team's normal workflow to accommodate COVID-19 precautions. You'll be seeing a lot more animation in the near future—from film studios, television producers and certainly from Vendi.
So, what can we do?
Preventing this disease's spread is labor- and time-intensive for most businesses these days, but nearly anything is possible to do safely. I say "nearly" because the best photographic angles are those that pull a viewer in. That often involves points of view with that enveloping "you are there" quality. When people are involved, that gets a little tricky from six or more feet away. Telephoto lenses have their place, but for that immersive feel, you need to be wide and up close. But what can be done?
Unless it is specifically scripted—and can be safely staged—allow time for masked and un-masked takes for possible post-pandemic revisions
Employ shotgun mics rather than lavalieres so your sound crew doesn't need to get close to talent to hide microphones on their body
Take advantage of natural light and shoot outdoors or in large, open indoor spaces
Limit crew size
It goes without saying, but provide plenty of masks to go around, disinfecting wipes, hand sanitizer and gloves 
And if working from home, up your internet bandwidth. The large video files will upload faster, and your daytime soaps will stream flawlessly.
La Crosse COVID-19 PSA 
Marine Credit Union TV Spot